Minva Tabletop Design Co
Regular price
Sale price
$8.00 USD
Unit price
per
Sale
Sold out
Share
Let your dice do the work! Our D&D card pack is a set of cards to help you keep track of everything during your game. With these cards, you'll be able to focus on the fun and the adventure rather than spending time on mundane things. These cards will help any new dungeon master and even any experienced one to run their game with ease.

Our D&D Card Pack includes our best-selling Minimal Spell & Item Cards, NPC/Monster Cards, and the Initiative Tracker Cards. If you're looking for some cards to help you keep track of your stuff either as dungeon master or even as a player, these cards will be perfect for your session or campaign.

What's included? 
---------------------------------
1. NPC/Monster Cards
-NPC/Monster card, Bordered NPC/Monster card, Shopkeeper card
-5x3.5in sized cards
- FIllable PDF, PNG and JPG for each card
- Free fonts for compatibility

2. Spell and Item Cards
- Printable Sheets for Spells, Weapons, Items and Spell Scroll Cards with custom made icons for each card
- Dimensions of 2.5in x 3.5in - Standard Playing Card
- 1 fillable pdf with all 4 different cards to print
- Free fonts for compatibility

2. Initiative Tracker Cards
- Fillable PDFs, JPGs and PNGs of each sheet
- Large & Small Size Cards
- Cards tailored for Player Characters & NPCs (Monsters & Regular NPCs)
- Free fonts for compatibility

Fillable PDF Help
---------------------------------
Adobe Acrobat is free to use and download to be able to fill out and view PDFs. Before editing the PDFs, be sure to install the included fonts so that the design will work as expected.

For Best Quality
---------------------------------
- Print at 100%
- Print on card stock or laminate to reuse so you can write with a dry erase pen
- It is recommended to print on a heavy cardstock for extra durability

Printing Tips for Cards
--------------------------------
Ideally you'd want to print these with some sort of cardstock (110lb/199gsm) so it will be more durable and won't rip. If all you have is regular paper, you could maybe make it work by putting them in a plastic card sleeve made for regular playing cards (2.5in x 3.5in or 64.5mm/ x 88.9mm). Personally, I've printed on a light cardstock, put them in sleeves and they work perfectly.
View full details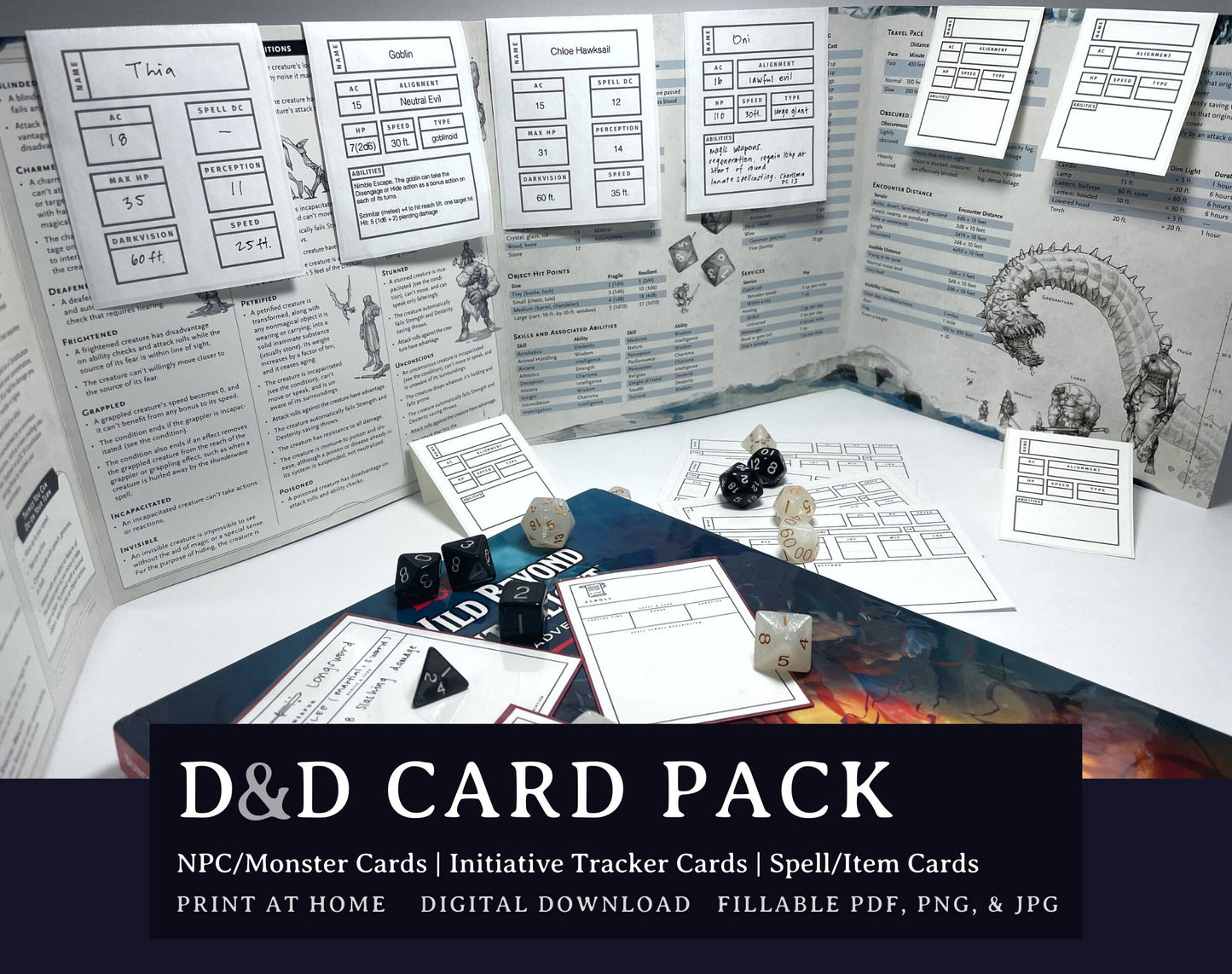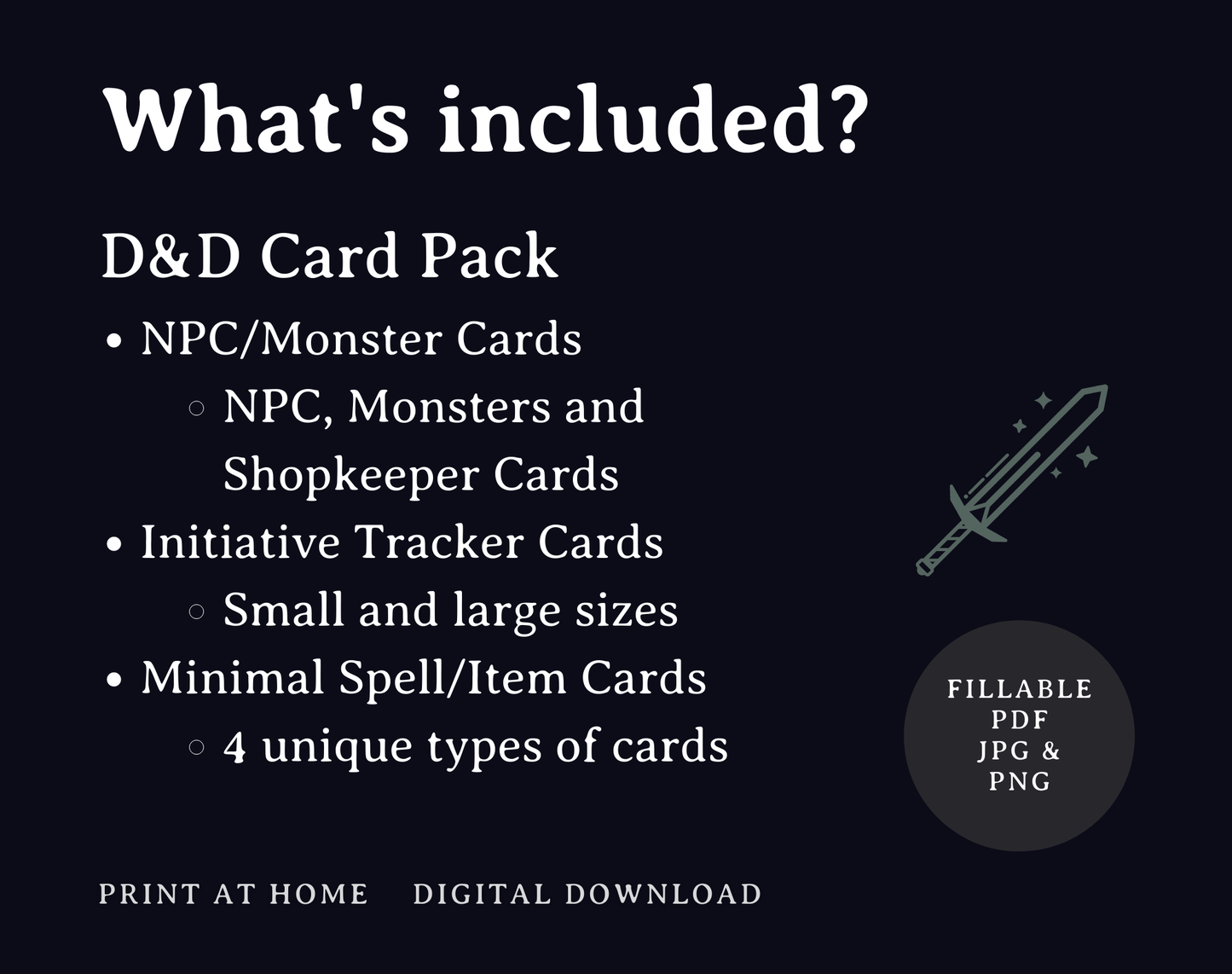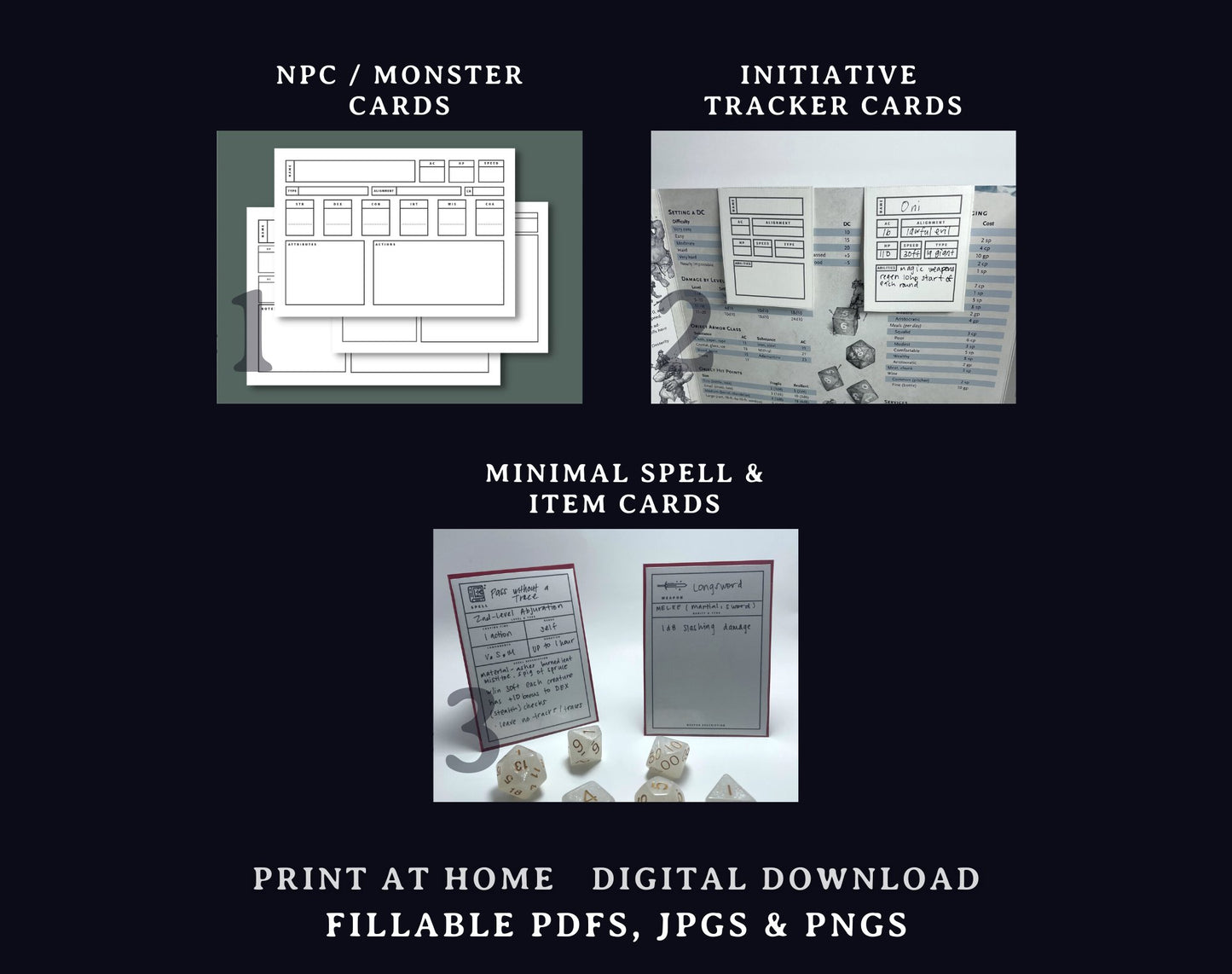 Very useful tool for a DM in need
Very useful tool for a DM in need
10/10
I spent so long looking for something just like this! These will be so helpful in running my game smoothly 10/10 do recommend
very helpful
Pack has been very helpful in organizing my table and giving players visceral items to hold/check